In 2021, Imagine Film Festival invites you to explore the sensation of embodiment in VR in its most scary, sexy and emotional registers.
As film buffs, we've all been touched, scared or grossed out by cinema. Knives cutting through the fabric of the pitch-black darkness of the film theatres could certainly create an impact, but they could not physically penetrate the distance between the screen and our seats.
The virtual realities enabled by modern headsets no longer resemble this passive space of cinema, but are more like a full-contact sport where flying bullets force us to dodge, workouts make us sweat, and intimate encounters might have us squirm in pleasure and confusion over our sexual identities.
The appeal of that is evident as we get to perform whatever actions we please, wearing whatever bodies we like. However, as much as we can be aware of the fiction of the whole setup, our bodies often cannot tell the difference between reality and play.
Despite a widespread conviction, our minds and bodies are not separated. What is only seen might bring us physical pain or pleasure if we align our own bodies with the virtual ones, lending the sensory awareness of our skin to our virtual avatars. As a result, the impact of cutting through the pixels can be as severe as cutting through the flesh.
The future of our virtual presence is undoubtedly linked to embodiment, so take this opportunity and follow us into a rabbit hole where the reality is fantastic, but the bodies are real.
VR SCARECROW
The most compelling experience of the 2020 Sundance and Raindance festivals comes back exclusively for Imagine as live one-on-one VR immersive theatre with an actor performing live from South Korea as an avatar in a social VR platform – VR Chat – allowing up to two participants to join in at one time.
You can experience Scarecrow from the 9th till 13th of April. Purchase a timeslot here
LOVESTORY | LIVE VR PERFORMANCE + EXTENDED Q&A
The concept behind the experience is derived from the interest in the science fiction films of the 80s and 90s such as The Lawnmower Man, Akira or The Fourth Dimension. Those early depictions of VR contained seeds of transhumanist ideas of transgressing the body and connecting people's feelings directly in a virtual reimagining of body structures and their motor skills.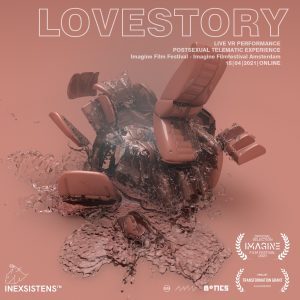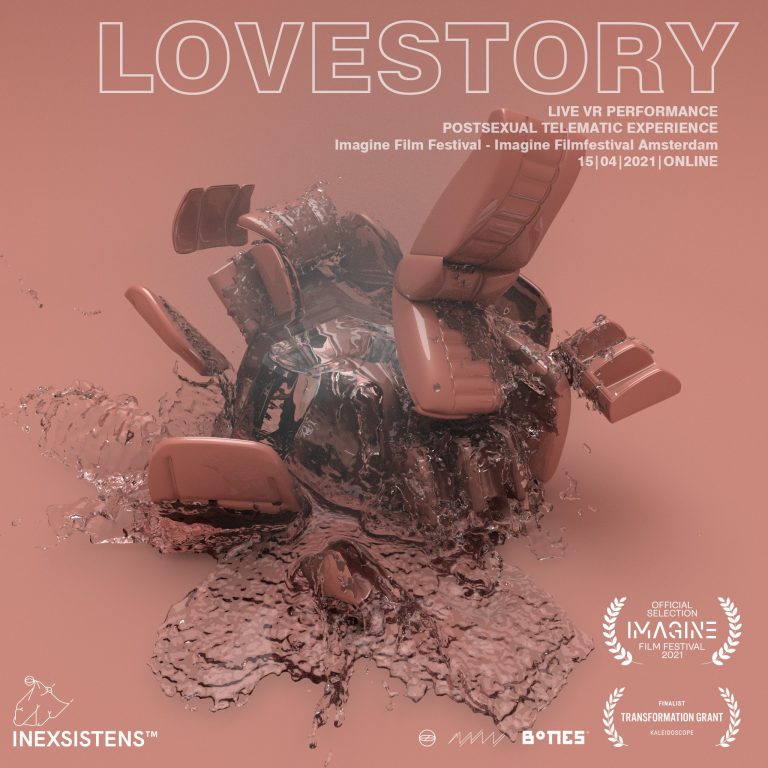 Lovestory takes place at Imagine 2021 on April 15th. Get your tickets here.
IVF-X
Breed & Meet your Cyborg Baby Now!
In the future, what will it mean to breed or reproduce if it is no longer a biological matter but an offspring of choice and technology?
Speculating on the future of human reproduction, philosopher and artist Victorine van Alphen developed a hybrid reality in which you can breed & meet your own 'personalized' cyborg baby.
Is it a Clinic? An institution? An immersive reality ritual? An audiovisual installation? A procedural performance? A glimpse into a possible future?
IVF-X combines the procedures used by the real IVF clinics for artificial insemination (IVF=In Vitro Fertilization) with VFX (visual effects) to explore our most intimate reproductive desires & dilemmas.
IVF-X was meant to be one of the key elements of the 2021 Imagine Expanded Programme which deals with the phenomenon of embodiment in Extended Reality. However, due to the COVID-19 regulations, we were forced to postpone the showcase of Victorine's work until further notice. 
To celebrate the physical intimacy of the piece – however hybrid or uncanny – we will make sure to set up a physical installation of IVFX, once Corona measures are lifted. We believe that this hybrid work couldn't have been transferred online without losing its essential sensuality and intriguing bodily presence of both cyborgs and humans involved.
You may subscribe HERE to be updated on when IVF-X will be shown in its full hybrid reality form.
Victorine van Alphen will also be a guest of our panel discussion Living With the Monster: Uncanny Intimacy.
Special, 20 min
Netherlands, 2020
Dutch & English, English interface
Genre: VR, Science Fiction
CREDITS
Director: Victorine van Alphen
VR Developer: Aron Fels (VR Academy)
Houdini specialist: Rudi Nieuwenhuis.
Sound design: Remco Langedijk, Burak Oztas